Costa Blanca South Travel Guide
This unique part of Spain has arguably the best-value quality new homes AND a terrific social scene.
Here is YOUR guide to days out, restaurants and getting around on this area of Spain's wonderful Mediterranean coast, courtesy of Tripadvisor.
Costa Blanca South is a beautiful region in Spain known for its stunning Mediterranean coastline, picturesque beaches, charming towns, and vibrant culture. Here are some things to do for tourists and travelers in the Costa Blanca South region:
Beach Exploration: Costa Blanca South boasts numerous beautiful beaches such as Playa de La Zenia, Playa Punta Prima, Playa de Mil Palmeras, and Playa Flamenca. Relax on the sandy shores, swim in the clear waters, and enjoy various water sports.

Torrevieja: Explore the vibrant town of Torrevieja, known for its salt flats, marinas, and lively atmosphere. Don't miss the Torrevieja Salt Lakes, where you can see unique pink lakes due to the presence of microorganisms.

La Mata Natural Park: This park is a haven for nature lovers, offering hiking trails, birdwatching opportunities, and serene landscapes. It's a great place to escape the bustle of the coast.

Santa Pola: Visit Santa Pola for its charming old town, stunning beaches, and a chance to take a boat trip to the nearby Tabarca Island, known for its crystal-clear waters and marine life.

Alicante: The capital city of the Costa Blanca region, Alicante offers a mix of historical and modern attractions. Explore Santa Barbara Castle, stroll along the Explanada de España, and enjoy the vibrant nightlife.

Elche: Discover Elche's palm grove, a UNESCO World Heritage Site, and explore its rich history through the Altamira Castle and the Elche Archaeological and History Museum.

Murcia: While technically not in Costa Blanca, the nearby city of Murcia is worth a visit. Explore its historic old town, visit the Cathedral of Murcia, and enjoy the local cuisine.

Cabo Roig Marina: This marina is a great place to relax, enjoy a meal overlooking the water, and even rent boats for a leisurely cruise along the coast.

Golfing: The Costa Blanca South is a popular destination for golf enthusiasts, offering a variety of well-maintained golf courses with stunning views.

Festivals and Events: Check the local event calendar for festivals, fiestas, and cultural events that showcase the region's traditions, music, dance, and cuisine.

Shopping: Explore local markets like the Torrevieja Market and Zenia Boulevard for shopping, dining, and entertainment.

Water Parks: Enjoy a day of family fun at water parks like Aquopolis Torrevieja or Aquapark Rojales.

Wine Tasting: Take a day trip to the nearby wine regions like the Alicante Wine Route and enjoy wine tasting tours.

Cuisine: Indulge in the region's culinary delights, including fresh seafood, paella, tapas, and local wines.

Scenic Drives: Drive along the coastal roads to enjoy breathtaking views of the Mediterranean and the picturesque landscapes.
Remember to immerse yourself in the local culture, interact with the friendly locals, and savor the laid-back lifestyle that the Costa Blanca South region has to offer.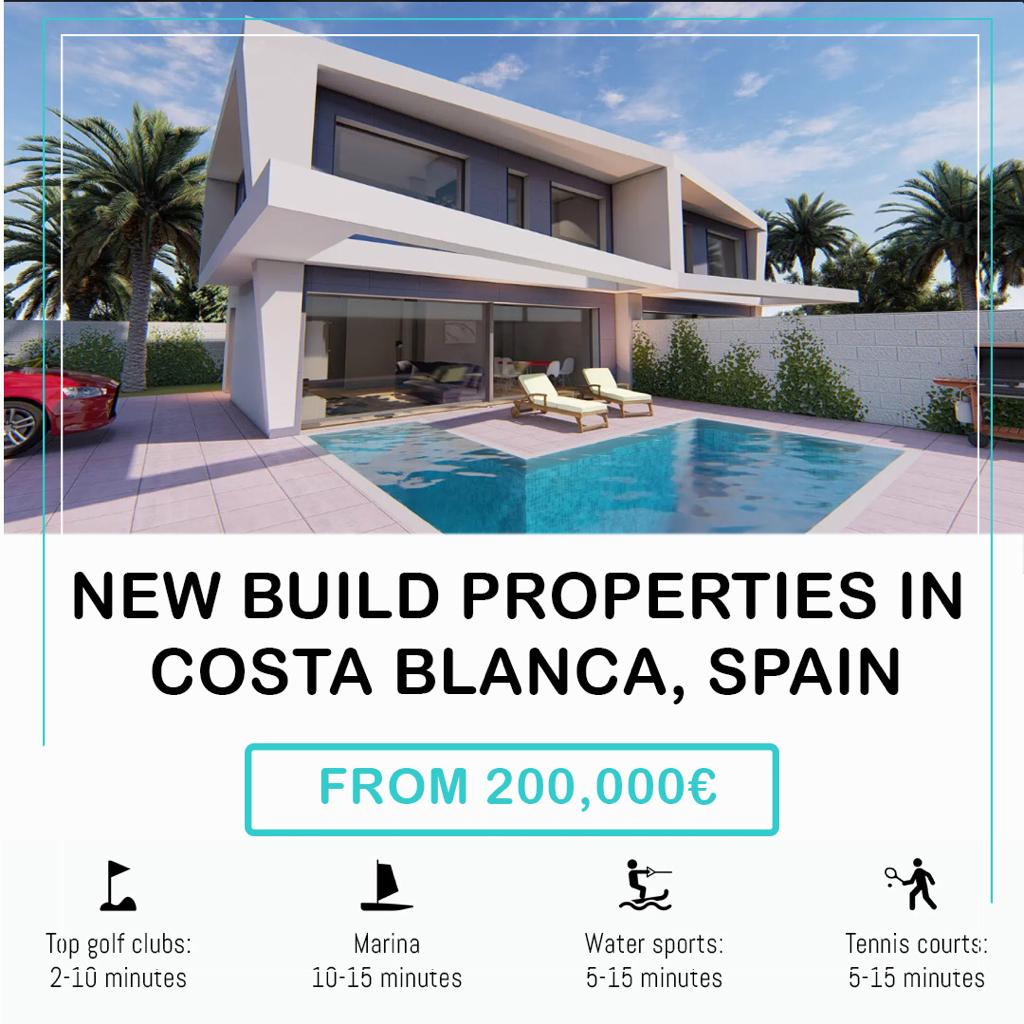 Brand New Apartments from 169,000€
This modern brand new gated apartments complex is located in Costa Blanca, Spain. Just 2 km from sandy beaches
Some of the tourist attraction
Aquapolis Water Park, Torrevieja
Great water park, well-run, all staff friendly and keeping lines in order. You can skip the bigger queues if you are a single rider. Plenty of kiosks where you can but hot dogs etc. All fast food, queues in the larger restaurant areas can be long at peak times. Take your own drinks and plenty of sun cream, Great place to spend the whole day with the kids.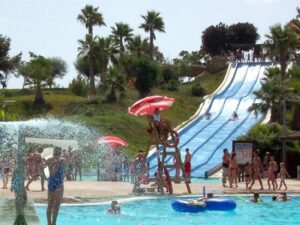 Go-Karting Orihuela Costa
Great place for a bit of fun, snacks and drinks available at the bar with reasonable prices.
They also have a wind tunnel experience which is great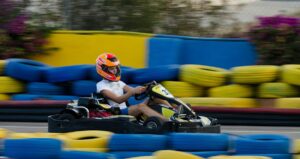 La Mata Beach, Torrevieja
Always clean, blue flag beach with restaurants, cafes, wine bars, beach huts bars and shops along the beach front. There are a few small shops and the main town square is only a few mins walk. Long sandy beach with a public WC available near the main parking area. Gets busy in July / August but empties out at 2/3pm when the Spanish go home for their siesta. A really lovely place to spend a week. More of a Spanish holiday area so lovely to be among the locals.
Reina Sofia Park, Guardamar
Wasn't sure what to expect but this place is lovely. As you walk in there is a gentle waterfall to the lakes which has a number of birds from swans to peacocks. There is a childrens play park so a great place for a family. There is a great little cocktail bar at the end which was lovely. I would go again – very peaceful.
River Raftng through Almadenes Canyon, Murcia
Husband, I and 2 teenagers enjoyed a day rafting. We had water fights with those on other rafts, time to swim and also to stop off and see the caves. We do not speak Spanish but our guide translated for us and ensured we had a fabulous experience.
Aqua Park, Rojales
Had a great day here just enough slides to keep everyone entertained reasonably priced at 18 euros. We had combination of food & drinks whilst here & all very good for a water park. They do fresh smoothies & cocktails too, which we all enjoyed wish we had come on our 1st couple of days as would probably have come back again during our stay. Lockers only 50 cent for the day & sun beds around the pool area only 3 euros each, which you don't have to purchase as there's a lovely grassed area at the top which overlooks the slides, but we didn't know about this & headed straight for the pool. All in all a great day out for all the family can't recommend enough would have given 5 stars if there were a few more slides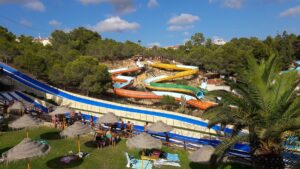 Villas directly from a developer
This villa consists of 3 bedrooms (with an option to 4-5 bedrooms), 2 bathrooms, a living room with an open plan kitchen, terrace, a rooftop solarium with stunning views on a pink lake and Mediterranean sea, a parking place, and a garden with a swimming pool. 
Guardamar Moncayo Beach
Beautiful beach clean and delightful to spend time on Easy to swim here In the summer the Lifeguards add a sense of confidence Also handy to havevthe kiosks for food and drink in the summer along with the umbrellas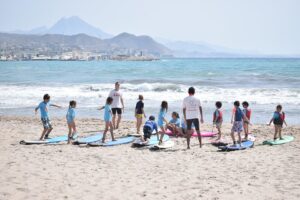 Beginner's Surfing Course, La Mata
This surfing experience is perfect for beginners, as it takes place in an area with calm waters, where big waves are rare. After meeting at La Mata beach, enjoy the convenience of having surfing equipment provided. First, learn essential surfing techniques and practice maneuvers while on land. Then, head to the water with your instructor for a fun surfing session with plenty of feedback along the way.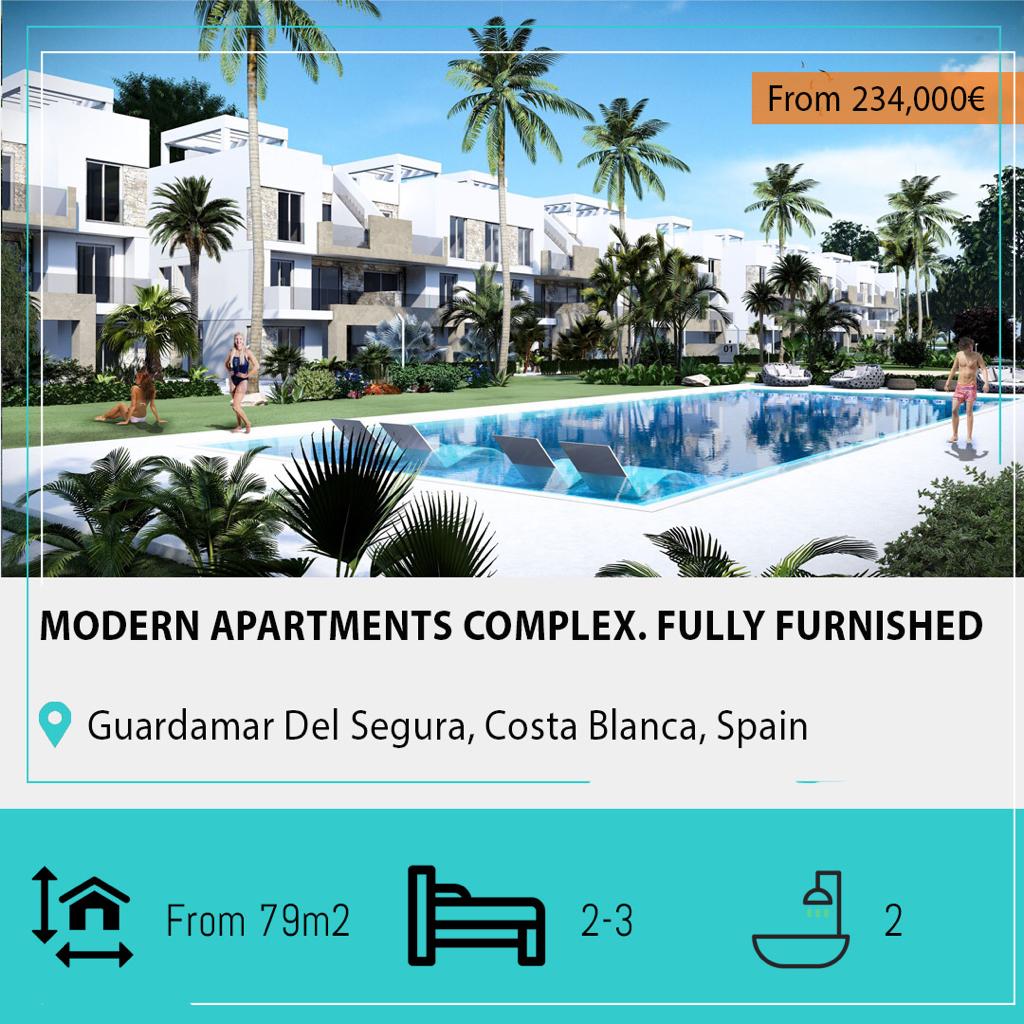 Guardamar Castle
Free entry, you can park near but google maps takes you the wrong entry so don't follow! Lovely walk, great views very well maintained, would like to go back at night when lit up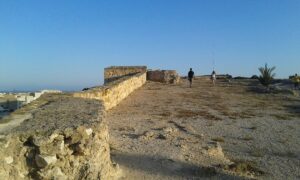 La Salinas de Torrevieja (Salt Lakes)
There is a blue lake and a pink lake in Torrevieja, both part of the salt industry. You can park up and go across to the lake. People cover themselves in mud, allow it to dry, then wash off in the salty waters; claiming health benefits. Take a large bottle of water with you to wash off salty legs. Note: you will see a lot of snails on the bushes, this is a unique species to the lake area.
Park of Nations, Torrevieja
This is a great park that is well looked after and full of a different types of animals. We saw chickens, turtles, peacocks, swans and ducks. It is a great place to walk round. We also went on an evening when they had fireworks which were spectacular, however you could tell the animals for very scared which I didn't like as I'm a massive animal lover! Overall, really lovely park and worth a visit.
Parasailing in Torrevieja
If you have always wondered what it would be like to fly like a bird over the sea, Torrevieja is a great place to try parasailing. Travelers with a variety of interests will enjoy parasailing, a very easy activity to do. Enjoy a boat ride on the ocean and wait your turn with excitement. Put on the provided safety gear and ascend into the sky behind the ship.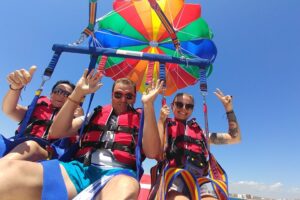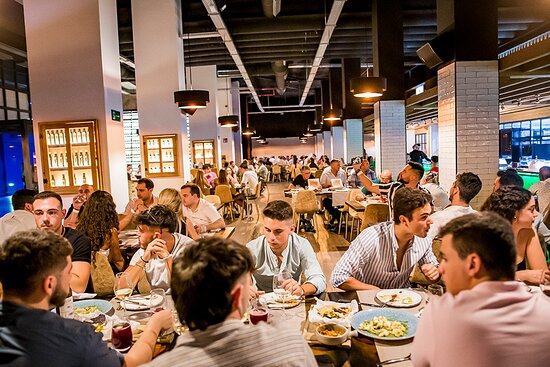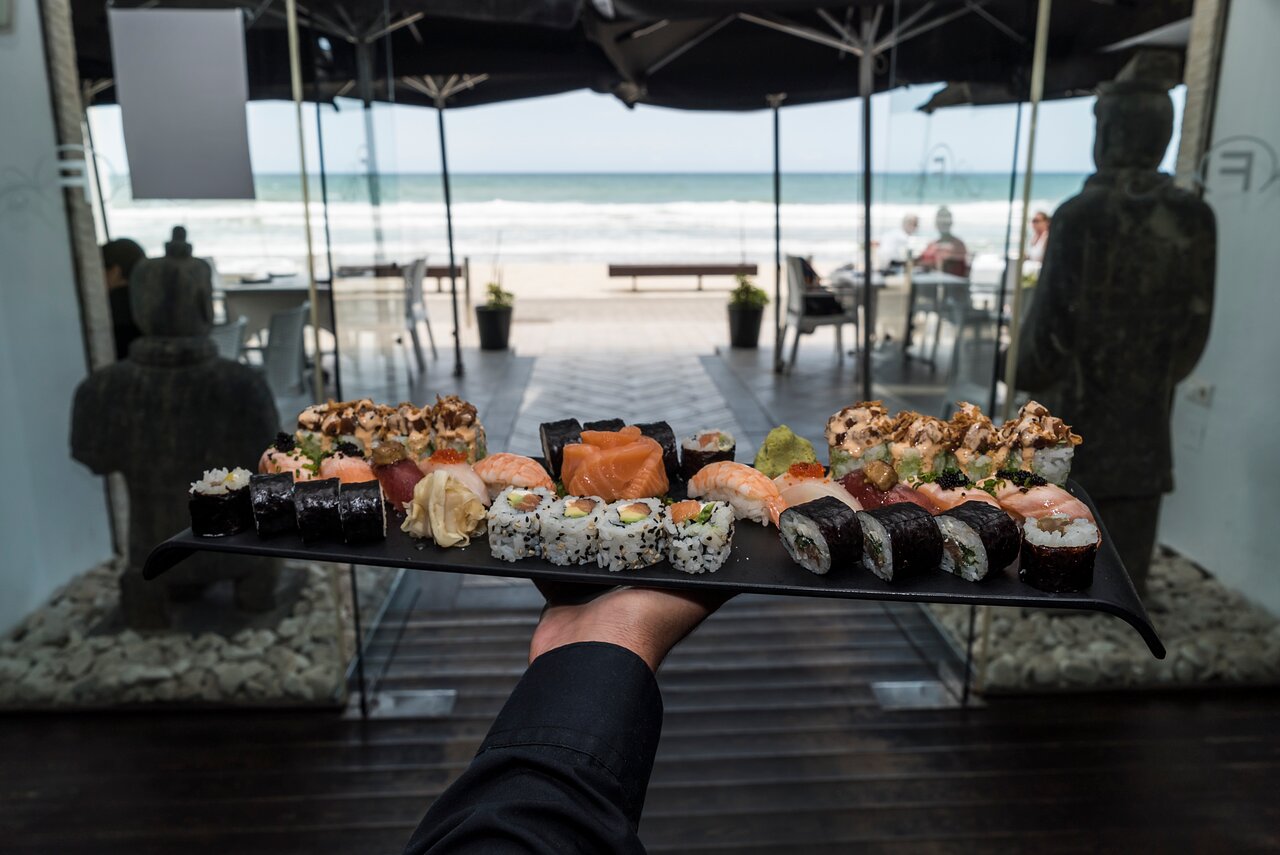 Restaurante Insaciable, Av Delfina Viudes, 1
Bar meals & Mediterranean cuisine "Really good food with incredible service"
Restaurante El Sabor Indian, Av Dr Mariano Canovas, 36
Indian & International cuisine "Fantastic food, go there!"
Ristorante Pizzeria Los Padrinas, Av. Desiderio Rodriguez
Italian & Meditteranean cuisine  "Authentic Italian pasta and excellent waiters"
La Fusion Restaurant & Music Club, Calle Geraneos, 1
Japanese & Mediterranean cuisine  "Couldn't have been happier with our visit"
La Paleta De Sabadores (Michelin), La Paleta De Sabadores
French & European cuisine  "A magical fusion of flavours & artistry"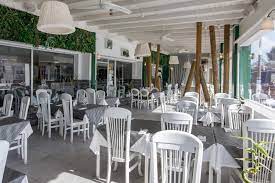 Da Silva's Restaurant, Av de las Naciones 57/12
Mediterranean & European cuisine  "Amazing service & even better food"
La Brisa Bar & Restaurant, Av de las Naciones 24/26
International & Mediterranean cuisine   "A perfect dining experience"
Indian Ocean, Calle Majorca, 25
Indian, Asian cuisine  "Excellent place to visit"
Day and Night, Av de las Naciones 9
Italian & Mediterranean cuisine  "Give this restaurant a try, you won't be disappointed"
Laurel's Restaurant & Bar, Calle Los Arcos, 21
International & European cuisine  "Always great food & service"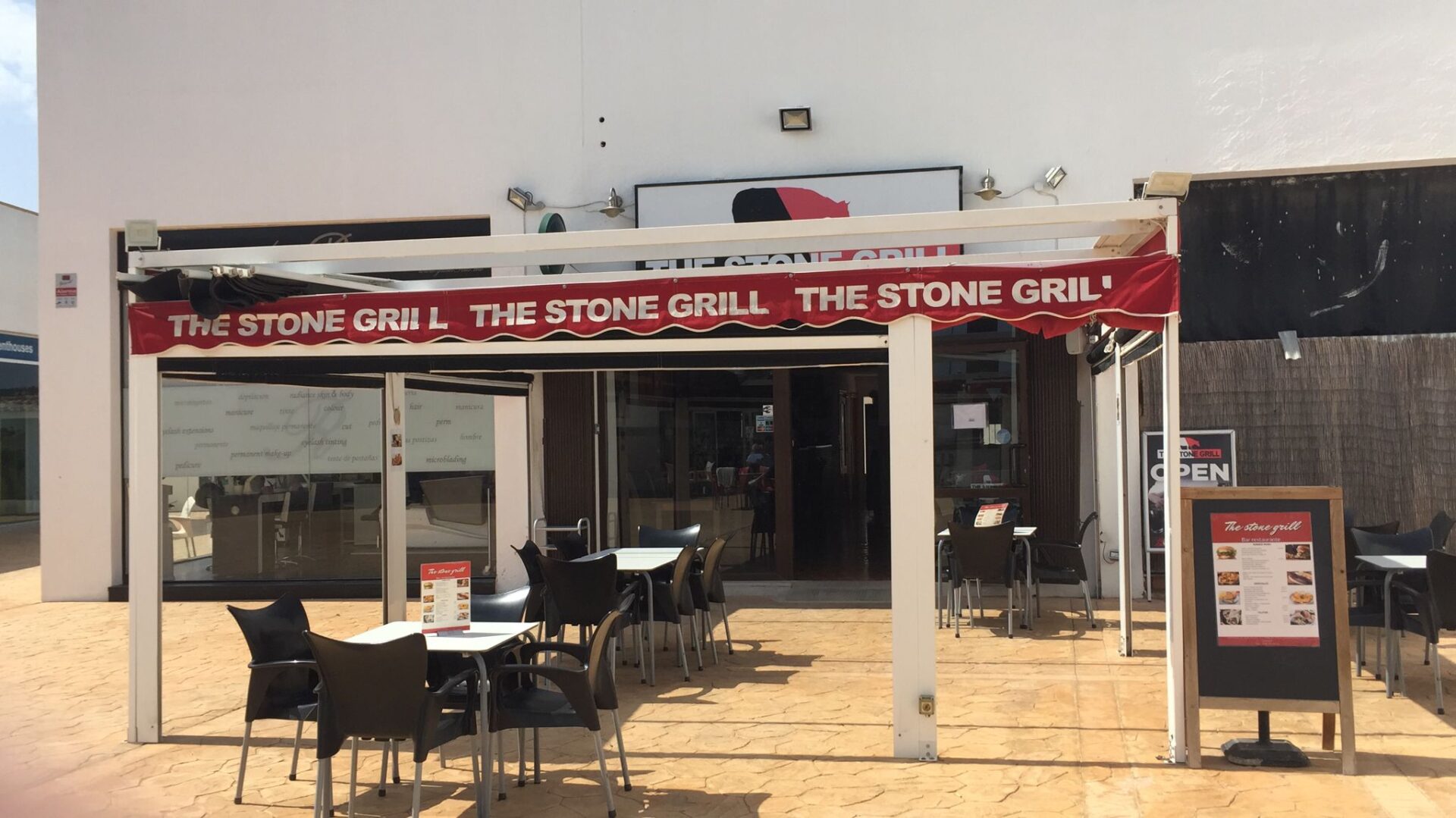 Stan & Ollies, Carrer Nostra Senyora de Fatima 10
International, British, Vegetarian-friendly  "Excellent surroundings & superb staff"
The Med Bistro Bar, Carrer Nostra Senyora de Fatima 8
Bar, Mediterranean & European cuisine  "Fabulous food & staff were amazing"
Chillies El Raso, Av el Ras Gran, 3
Indian, Asian, Vegetarian-friendly  "Probably some of the best Indian food I've ever had"
Gema's Tapas & The Stone Grill, Av el Ras Gran, 13
European & Gluten-free options  "Best steak I have ever eaten!"
Restaurant Manolo, Calle Campo, CV 895, 41
Mediterranean, European, Spanish  "Nice restaurant with a good choice of traditional Spanish food"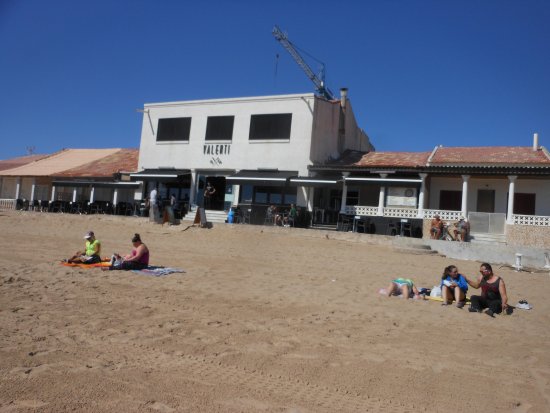 Portico Mar, Carrer Austria 1
Mediterranean, European "Beautifull food cooked to perfection"
La Caballeria, Av de la Libertad, 68
Steakhouse, International, Mediterranean  "Exceptional service & fantastic food"
Restaurante Le Bleu, Calle Azorin 22
Mediterranean, Spanish  "Great food in a great setting"
El Barco, Av Peru, 1
Mediterranean, Spanish, Vegetarian  "Fresh seafood and on the sea-front!"
Cafe Velacho, Av Europa 19
Bar cafe, Spanish cuisine, tapas  "A fab cafe in a fab position with fab staff"
Costa Blanca South is well-connected and can be easily reached by various modes of transportation. Here are some options for reaching the region:
By Air: International airport of Alicante is within 40-60 minutes driving. It offers direct and cheap flights all over Europe. From the airport, you can hire a taxi, use a shuttle service, or rent a car to reach your destination in Costa Blanca South.
By Train: – Fast train from Madrid to Alicante (2.5 hours). It makes it easy to reach for people outside Europe.
The main train station in the region is Alicante Train Station, which is connected to various Spanish cities, including Madrid and Barcelona.From Alicante, you can use local trains or other transportation options to reach specific destinations within Costa Blanca South.
By Car: Renting a car is a popular option for travelers who want to explore the region at their own pace.Major highways like the A-7 and AP-7 provide access to various towns and cities along the Costa Blanca South.
discovercars allows to book from different locations and combines many rental companies. Great service, best prices (especially off season). Note: most companies require to have a CREDIT CARD in order to receive the car.
costacarforyou 10% off on car rental from our partners when you say you're from "rentals and sales international "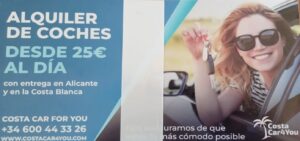 *often credit card might be needed to reserve
*Remember that transportation options may vary based on your starting point and the specific destination within Costa Blanca South that you're aiming for. Always check the most up-to-date schedules, routes, and availability before your trip.
The best time to visit the Costa Blanca South region is throughout the year. During the Summer (May to August)  months. These periods offer pleasant weather, fewer crowds, and a comfortable environment for exploring the region's attractions. Here's a breakdown of the different seasons:
Summer (April to August ): This is considered one of the best times to visit. The weather  ideal for outdoor activities, beach visits, and sightseeing. The spring months also witness the blooming of flowers and greenery, enhancing the region's natural beauty.This time is ideal to see blue beaches, great gastronomy and attractive prices are offered here in this region. This is also the best time to look for properties to buy.

Fall (September to October): Similar to spring, fall offers pleasant temperatures, clear skies, and reduced tourist crowds. It's a great time for beach activities, exploring towns, and enjoying outdoor events. The sea is still warm from the summer months, making it suitable for swimming and water sports.
If you're looking for specific factors to consider:
Weather: The summer months (July and August) can be very hot, with temperatures sometimes exceeding 30°C (86°F) or more. This is the peak tourist season, and while the beaches are inviting, it can get quite crowded. If you enjoy high temperatures and lively beach scenes, summer might be appealing to you.

Winter (November to March): While the winter months are milder compared to many other places, the weather can be unpredictable, and some facilities may close down during the off-season. However, if you prefer a quieter atmosphere and are interested in exploring local culture and attractions without the crowds, winter could be an option.
Ultimately, the best time to visit depends on your preferences and what you want to experience. If you're aiming for a balance between pleasant weather, manageable crowds, and vibrant local life, consider planning your visit during the spring or fall months. It's also a good idea to check the specific activities and events that interest you, as some festivals and events might be held during particular times of the year.
Brand New Apartments from 169,000€
This modern brand new gated apartments complex is located in Costa Blanca, Spain. Just 2 km from sandy beaches